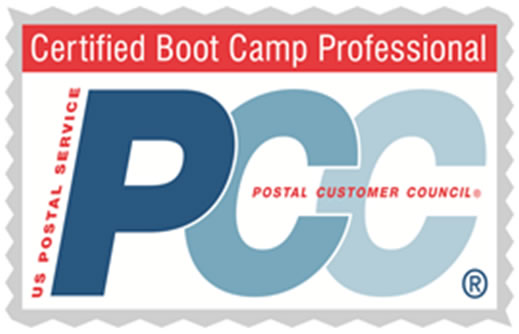 Registration is now open to attend the PCC Boot Camp 2.0 being held in Louisville, KY on Wednesday, June 20, 2018. The Boot Camp classes are designed to provide you with best practices and how to use the PCC to increase your knowledge about Postal products and services.
This interactive session is taught by USPS staff, and award-winning industry members from PCCs nationwide. During the course of a day, the instructors review successful communication and membership strategies to strengthen your local PCC.
Topics covered include:
How to Grow PCC Membership
Policy Administration & USPS Sales Interface
How to Market Your Events & Meetings
PCC Education
Boot Camps are designed to give you an opportunity to collaborate with both Postal and Industry members of your PCC, and to collectively add to the networking and educational opportunities available. The Boot Camps have been extremely successful and continue to grow. We highly encourage you to take advantage of this interactive experience where Postal and Industry work together to achieve greatness!
Date: Wednesday, June 20, 2018
Time: 8:30 a.m. – 4:00 p.m.
Louisville Boot Camp Location:
Kentuckiana Processing & Distribution Center
1420 Gardiner Lane, Room 304
Louisville, KY 40213
In order to register for the Louisville Boot Camp 2.0, please contact Renee Tyler.
Admission is FREE and includes a continental breakfast and lunch. Parking is free and a list of hotels are below.
Louisville, KY Hotels:
Aloft Louisville Downtown
102 W, Main Street
Louisville, KY 40202
Omni Louisville Hotel
400 S. 2nd Street
Louisville, KY 40202
Hyatt Regency Louisville
311 S. 4th Street
Louisville, KY 40202
Please direct any questions you have about attending this boot camp to Renee Tyler.
---